Are you finding that now that you are STUCK at home, you want to be anywhere but home? Has social-distancing made you finally wish that you actually went out sometimes? Have you already begun losing your mind? Are you actually reading my blog post for once because there is nothing else to do?
If that describes you, then I feel you friend. That's why I made this list. Because in the midst of my slow down-turn toward insanity, I came up with a few great ideas. Here are 33 Things to Do While Quarantined and Social-Distancing.
Read More: Secret Tips on How to Travel the World from Your Own Bed
1. Make cookie dough
Notice how I didn't say "Make cookies." In the days of social-distancing and quarantines, we may have all of the time in the world to bake things, but we also recognize that life can be short. Why try to make something better than perfect? Just eat the cookie dough, we all know it tastes better than the final product anyway.
2. Sing to early 2000's Punk and Alternative Music
When I say sing, I really mean "scream at the top of your lungs." Get into that "I Write Sins Not Tradegies," "Welcome to the Black Parade," "Sugar We're Going Down," "Mr. Brightside" feeling. Remember who you used to be and listen to the classics.
Bonus points if you do it Cameron Diaz style.
3. Make a fort
4. Trick out smart cars in GTA
If you have an Xbox or Playstation, everyone knows that Grand Theft Auto is a classic. However, if you are like me, then you don't care for the story line at all. All I want to do is play free play mode and trick out the smart cars. I highly recommend this.
5. Redownload the Sims
Did you know the Sims still exist? Better yet, did you know that the Custom content and Mod community is alive and VERY well. Nowadays, no one plays the basic sims. We mod everything. Want your Sims to do drugs? There's a mod for that. Want your Sims to experience the Coronavirus? There's a mod for that. Want your Sims to become serial killers? There's a mod for that. Simply want to create Billie Eilish? There's like 1012 mods for that.
The Sims isn't what it used to be. It's better.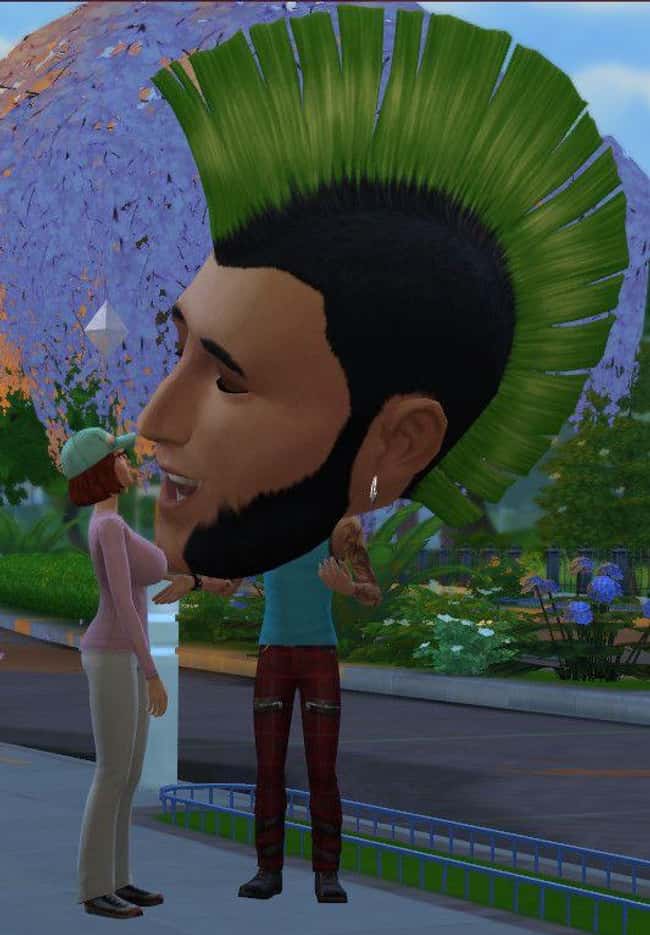 6. Learn a rap song
I'm not talking about your basic Kanye and Cardi B raps. I'm talking like, the hardest rap you can imagine. Work on learning every line from Rap God, then perform it. I can guarantee it won't be pretty, so do all of us a favor and upload your rendition to youtube while you're at it.
7. Binge watch old Disney Channel movies
I'm not talking about Aladdin and Lion King. I'm talking about Zenon, Stuck in the Suburbs, Halloweentown, and Cadet Kelly. Either download Disney+ and pray they have them available or buy them by clicking the links on their names
8. Watch Youtube fails
Because who can resist? An alternative to this would also be to watch old episodes of America's Funniest Home Videos.
I promise, you won't regret this. My husband is a regular follower of this twitter, and it never lets him down.
10. Follow your pet around and take a million pictures
11. Rewatch Avatar the Last Airbender
Hands down one of the greatest character development shows I have ever seen. Though a cartoon, Avatar will always remain one of the greatest shows ever made to many people. If you haven't seen it, watch it. If you have seen it, do what I did and buy the set to rewatch whenever I want. (I blame Netflix for removing this show years ago).
12. Do a situp
Don't set high expectations for yourself that you won't meet. Instead, set ridiculously low expectations, or none at all! Take a break for once, but not too much of a break. Make sure to do a situp so that when people ask what you did during quarantine, you can say "exercise" and not totally be lying.
13. Harry Potter movie marathon
Because you can never have too much Harry Potter.
Also, please appreciate the fact that one of my students photoshopped me into this picture as Hermione because of my love of Harry Potter.
14. Write an essay about how Dumbledore is a manipulative jerk
Sometimes, it just feels good to let out all of your feelings in a productive way.
15. Post photos from 2008, tag everyone
They won't appreciate it, but you will, and so will the onlookers. Did anyone have an attractive 2008? I was in middle school sooo… not my best years.
16. Buy a Zorb for successful social distancing tactics
Honestly I'm super tempted because these look hilarious. Find them here.
17. Make your own wine fountain
Or use soda. or water. It's truly an harder process than it sounds, but we've got time. Here's how you do it:
stack cups
pour drink
clean up inevitable spill
18. Lay around naked
Please don't post this one on the internet for the rest of us to see. Please. Just enjoy being home alone.
19. Video tape yourself singing BOTH of Hilary Duff's parts in "This is What Dreams are Made Of" and make a bomb music video pretending you have an Italian duo
Sing to me Paolo.
20. Learn the most annoying song on guitar
Can you really say that you know how to play guitar if you have never learned how to play Wonderwall? Protip: If they hit on you playing Wonderwall, it's the only song they know how to play. You might as well learn it too 🙂
21. Get really good with Jigglypuff in Super Smash Brothers
Original, Melee, Brawl, that other new one for the Nintendo Switch that most people didn't buy. There are so many versions of Super Smash Brother to play. Use this ridiculous amount of time on hand to master the most useless character: Jigglypuff. This is guaranteed to benefit you in the future as there is nothing more embarrassing than losing to the worst character in the game. Your friends won't know what hit them.
22. Clean out your pantry by eating everything
23. Take out the trash (aka stop post-poning that breakup)
If you were looking for a sign, this is it. Those of you who are dating trash, know that you are dating trash. In my opinion, there is no better time to dump them and dig into your quarantine snacks to drown the sadness.
24. Watch 80's workout videos on Youtube
Might I recommend this one? Because I'm cracking up watching it.
25. Google Coronavirus conspiracy theories
27. Cry and bottle your tears for when you run out of water
28. Watch this oddly relatable video about being stuck in isolation (Rocketman 1995)
29. Question the ethics behind isolation chambers in prisons
30. Send everyone lives back in candy crush and farmville (respond to those requests from 2008)
31. Check on your Neopet
How long has it been since you have gotten your daily omelet and fed your neopet? Go look for the rainbow city and play some egg games. Apparently there is a mobile app in the works?
32. Get your workout in by dancing along to Beyonce music videos.
33. Start the ultimate Nerf battle
If you live with a family, partner, or roomates, this game is for you. I just found out that amazon sells darts in a pack of 1000. ONE THOUSAND DARTS. I could shoot my husband so many times with that. It will be very useful after multiple days of quarantine with him. (All jokes, all jokes, I love him dearly).